Master Franchise Opportunities
Master franchisees benefit from being awarded the rights to two franchise systems – firstly, how to operate a successful local franchise, and secondly, how to develop a successful national franchisee network; in effect, becoming the franchisor in their domestic market.
When all parties are fulfilling their obligations, and where a strategy is in place to allow for external factors such as the economics of that country, then growth is quicker and all benefit.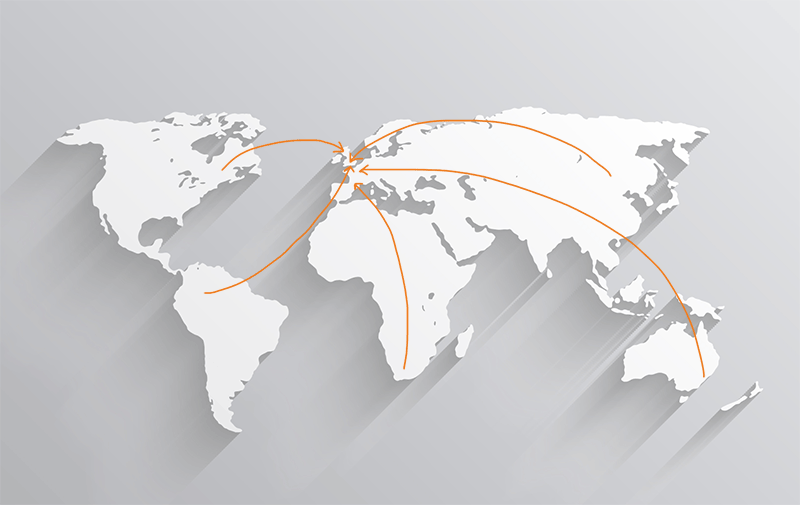 Current Opportunities
Click on the "schedule a call" button at the top, to find out more…

In the USA, N-Hance Wood Renewal is the No. 1 choice for refinishing cabinets, hardwood floor, furniture and other wood surfaces, with nearly 500 franchises in operation. Founded in 2001 by the same company that grew Chem-Dry into the world's largest carpet cleaning franchise, N-Hance is a low-cost, highly scalable investment opportunity with a proven business model that is revolutionising the home restoration industry. With Master Franchises operating successfully in Canada and Australia, N-Hance is seeking a Master Franchise partner for the UK.

Instant Imprints provides a one-stop shop for all types of visual communication for companies, organisations -in fact anyone with a brand they wish to promote. They do this via Branded Apparel, Signs & Banners, Promotional Products, Custom T-Shirts, and Digital Print Services. The current owner of Instant Imprints is Ralph Askar, the entrepreneur who built MBE in the UK and Canada; and in his opinion, Instant Imprints has the potential to be much more successful, because every organisation can use its services. This is an opportunity to acquire the UK Master Franchise rights.

Sola has developed an innovative salon model which empowers hairdressers, aestheticians, nail techs, massage therapists and likeminded professionals to take control of their lives and their careers. They provide beauty professionals with high-end, fully-equipped salon studios alongside the support and tools they need to launch their salon business quickly. In 2004, Sola® Salon Studios was established in Denver, Colorado, and now has more than 400 franchise and company owned locations open across the USA and Canada. The UK Master Franchise is available.

M Room is in the business of helping men look and feel their best by being 'more than a barber'. Basically, it is a men's barbershop chain that offers its customers 'more than a barber'. Basically it is a men's barbershop chain that offers its customers affordable, high quality and convenient men's grooming services – through a membership model. Today, it operates as a franchise in over 80 locations globally, serving over 20.000 clients a month. M Room would like to enter the UK via Regional Master Franchisees.

Mobile App City helps smaller businesses acquire and retain new customers, with minimal cost, which results in increased profitability. It does this through the innovative use of digital media services. The company began in 2011 and today has over 50 licensees operating in Australia and the USA. This is a licensing opportunity which has been structured to give licensees low overheads, maximum profit, total flexibility and the option to build their businesses as large as they wish. Regional Master Licenses are available in the UK.

Greenberry's Coffee Company is a high-end coffee and food retail concept, which has built strong and lasting relationships with its customers because of the consistent high standards offered in each of its stores. It prides itself on
offering a friendly, clean, welcoming, 'home away from home' feel for its customers. In addition to outstanding coffee, Greenberry's offers a breakfast and lunch menu centred around fresh, savoury ingredients. Today, with a 25 year pedigree, they operate over 50 units on 3 continents. They are seeking either a national Master Franchisee, or regional Masters in the UK.

Midas operates multi-brand, conveniently located vehicle workshops, and is no. 1 worldwide for car maintenance with or without an appointment. It uses sophisticated technology to build strong relationships with its customers. It can provide as good a service as branded dealerships, but at much lower prices, because it doesn't have car showrooms, and is not restricted in terms of using only original manufacturer's parts. Huge potential in the UK, and Midas is seeking a Master Franchisee who shares its vision and values.

Kipina is the fastest-growing Finnish nursery & preschool brand in the world. Kipina has created a unique academic program for kids aged 4 months to 6 years. They have integrated the program into their management software and mobile apps. They've developed systems and procedures, and sourced the best and most cost effective suppliers. They own and manage their own preschools and so practice what they recommend! The secret behind this success is the Finnish approach to early childhood education, which creates a lifelong love of learning. If children love learning, they stay with it longer. Regional Master Franchises available in the UK.

Firstlight® Home Care sees itself as more than a national network of franchises, rather it represents a new way of helping people achieve the quality of life they deserve. By focusing on developing real personal connections, Firstlight is taking the home care model to new heights. With some of the best revenue performances in their sector, and the highest staff retention statistics, they operate one of the fastest growing home-care franchises in North America. As you would expect, their training and technology support are outstanding, and they are seeking a UK Master Franchise partner who shares their vision and values for changing the face of home care.