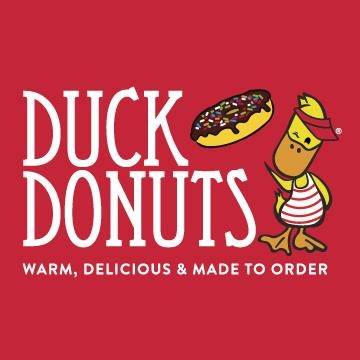 Overview:
Duck Donuts started out as a small, family-run business when the founder visited the town of Duck, North Carolina (no prizes for guessing where they got the name!). In his own words: "Our family wanted a place to buy warm, delicious, made-to-order donuts, and when we couldn't find one, we decided to start our own!"
The first outlet opened in 2007, with the brand launching as a franchise just a few years later. Duck Donuts is now one of the biggest doughnut sellers in North America and has spread to six other countries with 22 million doughnuts sold worldwide in 2020.
The brand has successfully combined a family friendly image with their own unique offerings in the form of doughnuts that are made with a vanilla cake base, rather than yeast, all of which are made to order in front of the customer, adding a theatricality and authenticity to the experience that many other vendors lack. A visit to Duck Donuts is about having a unique experience in addition to consuming an excellent quality product.
The Franchise Opportunity:
Springboard your way to success in the UK Food & Beverage market with an estimated worth of more than £75billion per annum
The perfect opportunity for highly motivated entrepreneurs to expand their portfolio with an exciting and rewarding new business venture
Fantastic potential for those with existing businesses, such as coffee outlets, who are looking for a co-brand to complement their offerings
Strong branding and marketing presence with excellent growth potential and return on investment
A flexible business model with recipes which can be adapted to respond to trends in local markets
Not just doughnuts! Breakfast, snack, dessert and drink options mean your outlets can earn sales all day long, as well as offer attractive packages for catering and office delivery
Lower overheads than other F&B brands with no need for bulky and costly equipment
From the morning commuter stopping in for a pick-me-up to the mom treating her kids to dessert, Duck Donuts appeals to everyone
Highly scalable in variety of formats and locations, eat-in and take-away
Minimum Investment:
£300K including build out of first unit
Year established: 2007
Estimated time to break even: Individual stores should be cash flow positive within a few months of opening, dependent on location and time of year
Current number of franchisees: 150+ in 6 countries
Franchise Lifestyle: Management