If you've been following The Franchising Centre's Facebook or LinkedIn profiles lately, you will have surely seen that Farrah Rose, our Head of Development, is back on the road doing what she does best: meeting and talking with some of the biggest movers and shakers in the world of International Franchising.
Before the pandemic, she was our very own Carmen Sandiego with nearly every day being a new destination around the world. Farrah's travel experience has taken in almost every possible international market you can think of, including a number of emerging markets where she has played a pivotal role in creating franchise opportunities for both local and overseas brands.
Of course, Covid meant she was grounded for the best part of two and half years, but we are very happy that she is now back on the road to bring us all the most up-to-the-minute news from her vast network of global contacts.
From Lockdown to Lowdown
In February, Farrah attended a catch-up of her Franchise Pool International (FPI) contacts in Lisbon. There, a group of local franchise & tax specialists gave us a detailed update on the new advantageous tax rules for international franchisors looking to set up HQs in Portugal, making this a fascinating and productive trip for everyone involved.
FPI is an international network of leading franchise consultants and brokers with associates in 46 different countries. With Farrah's own personal network of connections spanning more than 100 countries on top of that, it is easy to see why the return of these meetings marks something big for the world of international franchising!
"These trips are all about making connections." Farrah told us. " And after two years of lockdowns, to actually catch up with my global associates in person has already proven to be hugely valuable. Bringing together both new entrants and more experienced veterans in our industry around the world allows us to create a solid foundation for our clients looking to expand internationally."

Knowing their brands can be positively represented at local level by regional experts is very important, and we're out here to create new support platforms and new forums which are always at the very cutting-edge of the franchising market."

After just a few days stop off at home, Farrah did not even letting the dust gather on her passport before she flew out to the International Franchise Association's Annual Conference in Las Vegas from 26th February to 1st March. Not only did she finally get a chance to rub elbows with some of the biggest names in the franchising world and discover the best up-and-coming brands who are just breaking onto the scene, she was also in for a big surprise of her own.
This year, Farrah received the Global Franchise Hall of Fame award!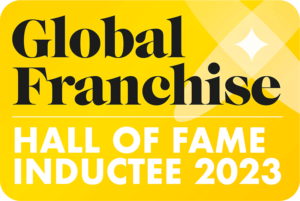 The award was created to recognise those individual's contribution, dedication and service to franchising around the world. Farrah now joins the ranks of some of the biggest names in franchising history, a truly illustrious list of legendary pioneers who set the standard for excellence in franchising. Winning this award is a remarkable achievement and a recognition of her unparalleled skills and accomplishments. She has shown that success is attainable with hard work, persistence, and a commitment to excellence.
Farrah sure is one busy lady, but she and her team here at TFC are never too busy to talk to brands about their plans for international growth. The Franchising Centre is the only international franchise consultancy with contacts not only in established markets, but in fresh, emerging ones, too.
If you run a successful business which wants to expand overseas, or an international brand which is looking to break into the lucrative UK market, then why not get in touch?
With a dedicated team of consultants and experts, we've helped thousands of brands like you achieve their international franchising goals.