The Franchising Centre is very pleased to announce that our very own Farrah Rose, Head of International Development, has been awarded the prestigious Category Winner prize for Contribution to International Franchising at the Global Franchise Awards 2020.
International Franchising's Red Carpet Event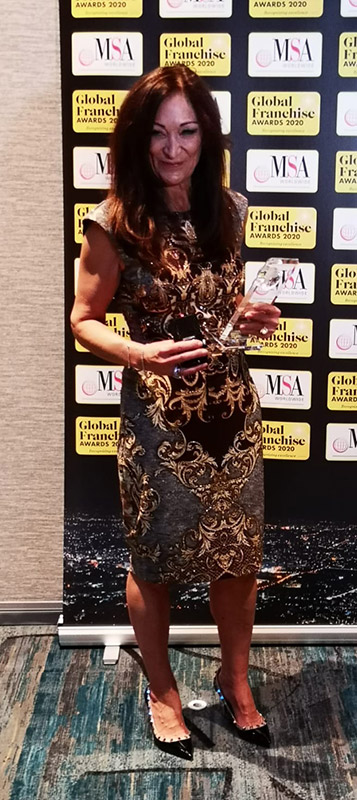 Every year, at the International Franchising Association convention, Global Franchising Magazine and DC Thompson bring together over 200 key players from the industry at a drinks reception, which was held this year at the World Centre Marriott Hotel in Orlando, Florida. The highlight of the night is the awards ceremony, where a panel of judges drawn from among the most highly respected and long-standing franchise experts, recognise those who have made outstanding contributions in their field.
Contribution to International Franchising is a particularly highly coveted award that is only given to those who have truly distinguished themselves in the industry.
As Farrah herself put it: "What an honour! All I could feel was how blessed and humbled I felt serving this sector and working with my colleagues at The Franchising Centre, the most professional and ethical Team you could possibly ask for, who have had an unwavering commitment to maintaining the highest standards in the industry."
The Key to Franchising Success
Franchising is rapidly becoming one of the most successful ways for businesses to achieve sustainable and profitable growth, both within their own territories and overseas. From large, powerful brands, to smaller, up-and-coming companies, more and more businesses are choosing to work with experienced local partners in their target markets. Franchising is without any doubt the easiest route to achieving international growth, and having renowned experts like Farrah on hand to provide advice and guidance is proving to be absolutely critical to that success.
Farrah's unrivalled experience has played a huge part in this, of course. She has worked at the highest levels in international franchise management with over 300 brands, trail blazing international franchising in the UK since the early 1980s, when the sector was still very much in its infancy. She was one of the early founding members of The Franchising Centre, and has worked tirelessly to develop our International Division into a global authority, with 75 associated offices in 100-plus countries. She is also an attendee and speaker at all of the most prominent international franchise events, and is a regular contributor to respectable publications, such as the Global Franchise Magazine, with articles on the ethics and mechanics of international franchising.
"I'm truly privileged and honoured to have been given a space in this growing industry over the past 35 years to contribute to, and witness, its development. I could not have done it without the support of our team at The Franchising Centre, and all of our local associates around the world."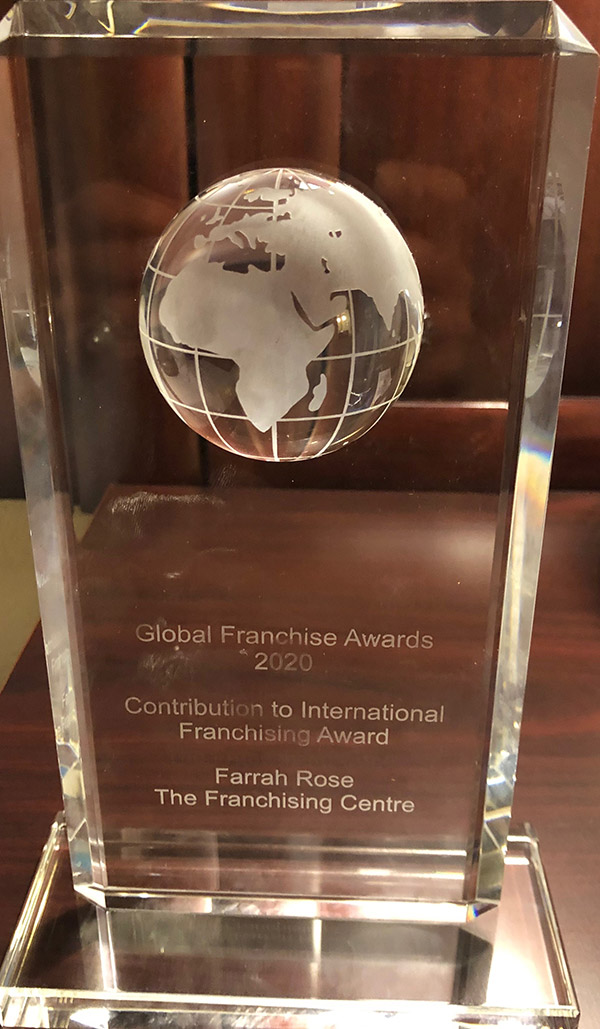 Ethics and Expertise – A Winning Combination
At the Global Franchising Awards, Farrah was up against a number of other very high-profile international franchising experts, so to receive the top prize is a huge accolade for both her and The Franchising Centre.
She feels that there were two main factors that led to her success that night:
"Firstly, I put my ethical approach to franchising before anything else. Sometime, I have to actually advise companies not to expand internationally as it would kill the 'goose that laid the golden egg'. We want to be sure that this really is the best thing for our clients. I feel that I have a moral duty to my clients, their employees, their families, and their franchisees to give the best advice I can. Secondly, I have had the opportunity to apply my expertise across a wide variety of sectors and markets, all with their own particular nuances. I always do my best to offer the most appropriate strategy to my clients, developing bespoke franchise models that suit their respective concepts, as well as the client's personality, resources and needs."
With our highly skilled global team, and award-winning experts like Farrah, The Franchising Centre is perfectly positioned to advise and guide companies as they expand abroad. If you're considering using the power of franchising to take your business into new and lucrative markets overseas, get in touch to find out how we, as International Franchise Consultants, can help you in the process.