Unsure about dipping your corporate toes in UK waters? Here's a score of good reasons to help you decide
By Brian Duckett, Published in Global Franchise Wire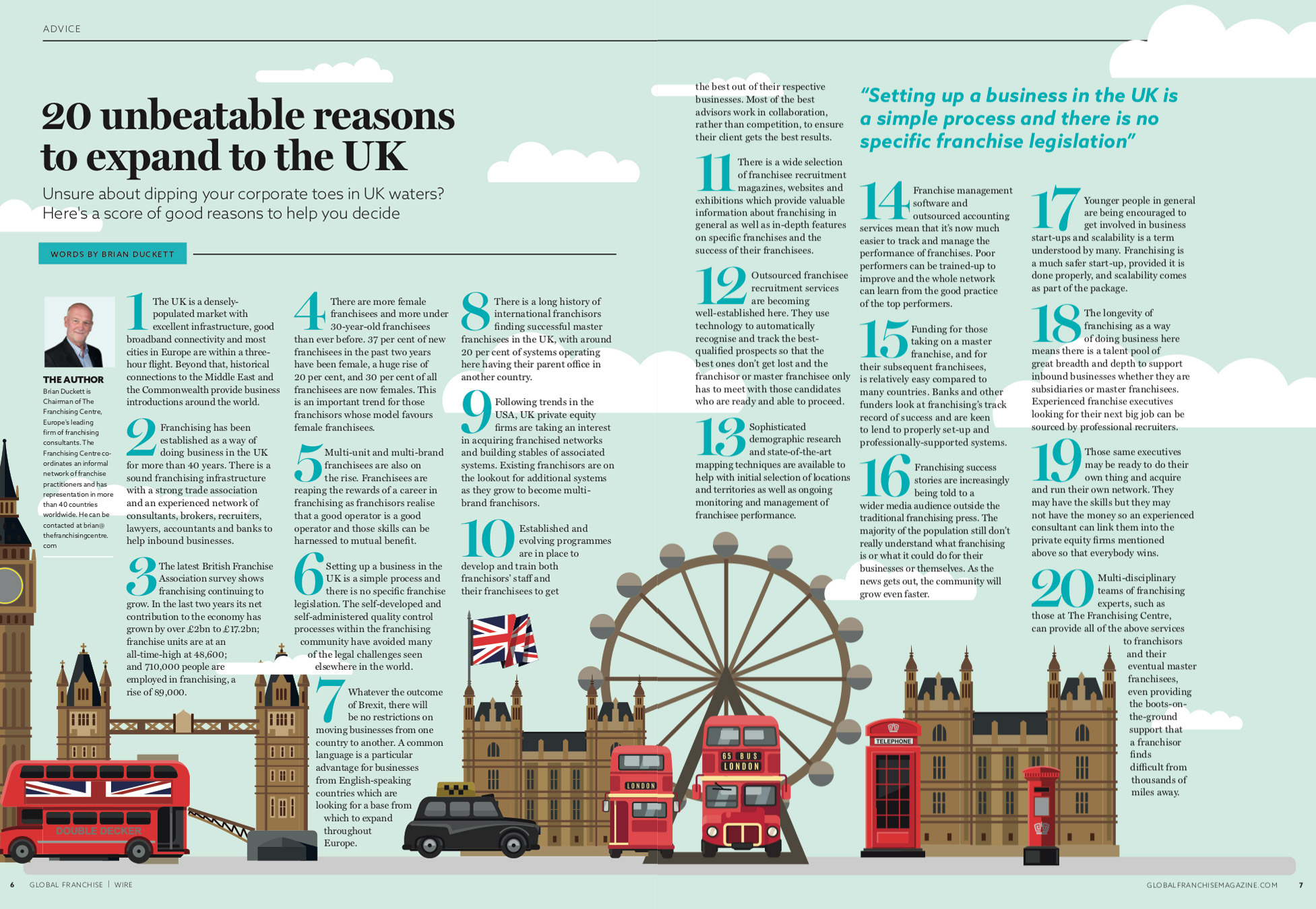 1. The UK is a densely- populated market with excellent infrastructure, good broadband connectivity and most cities in Europe are within a three- hour flight. Beyond that, historical connections to the Middle East and the Commonwealth provide business introductions around the world.
2. Franchising has been established as a way of doing business in the UK for more than 40 years. There is a sound franchising infrastructure with a strong trade association and an experienced network of consultants, brokers, recruiters, lawyers, accountants and banks to help inbound businesses.
3. The latest British Franchise Association survey shows franchising continuing to grow. In the last two years its net contribution to the economy has grown by over £2bn to £17.2bn; franchise units are at an all-time-high at 48,600; and 710,000 people are employed in franchising, a rise of 89,000.
4. There are more female franchisees and more under 30-year-old franchisees than ever before. 37 per cent of new franchisees in the past two years have been female, a huge rise of 20 per cent, and 30 per cent of all franchisees are now females. This is an important trend for those franchisors whose model favours female franchisees.
5. Multi-unit and multi-brand franchisees are also on the rise. Franchisees are reaping the rewards of a career in franchising as franchisors realise that a good operator is a good operator and those skills can be harnessed to mutual benefit.
6. Setting up a business in the UK is a simple process and there is no specific franchise legislation. The self-developed and self-administered quality control processes within the franchising community have avoided many of the legal challenges seen elsewhere in the world.
7. Whatever the outcome of Brexit, there will be no restrictions on moving businesses from one country to another. A common language is a particular advantage for businesses from English-speaking countries which are looking for a base from which to expand throughout Europe.
8. There is a long history of international franchisors finding successful master franchisees in the UK, with around 20 per cent of systems operating here having their parent office in another country.
9. Following trends in the USA, UK private equity firms are taking an interest in acquiring franchised networks and building stables of associated systems. Existing franchisors are on the lookout for additional systems as they grow to become multi-brand franchisors.
10. Established and evolving programmes are in place to develop and train both franchisors' staff and their franchisees to get the best out of their respective businesses. Most of the best advisors work in collaboration, rather than competition, to ensure their client gets the best results.
11. There is a wide selection of franchisee recruitment magazines, websites and exhibitions which provide valuable information about franchising in general as well as in-depth features on specific franchises and the success of their franchisees.
12. Outsourced franchisee recruitment services are becoming well-established here. They use technology to automatically recognise and track the best-qualified prospects so that the best ones don't get lost and the franchisor or master franchisee only has to meet with those candidates who are ready and able to proceed.
13. Sophisticated demographic research and state-of-the-art mapping techniques are available to help with initial selection of locations and territories as well as ongoing monitoring and management of franchisee performance.
14. Franchise management software and outsourced accounting services mean that it's now much easier to track and manage the performance of franchises. Poor performers can be trained-up to improve and the whole network can learn from the good practice of the top performers.
15. Funding for those taking on a master franchise, and for their subsequent franchisees, is relatively easy compared to many countries. Banks and other funders look at franchising's track record of success and are keen to lend to properly set-up and professionally-supported systems.
16. Franchising success stories are increasingly being told to a wider media audience outside the traditional franchising press. The majority of the population still don't really understand what franchising is or what it could do for their businesses or themselves. As the news gets out, the community will grow even faster.
17. Younger people in general are being encouraged to get involved in business start-ups and scalability is a term understood by many. Franchising is a much safer start-up, provided it is done properly, and scalability comes as part of the package.
18. The longevity of franchising as a way of doing business here means there is a talent pool of great breadth and depth to support inbound businesses whether they are subsidiaries or master franchisees. Experienced franchise executives looking for their next big job can be sourced by professional recruiters.
19. Those same executives may be ready to do their own thing and acquire and run their own network. They may have the skills but they may not have the money so an experienced consultant can link them into the private equity firms mentioned above so that everybody wins.
20. Multi-disciplinary teams of franchising experts, such as those at The Franchising Centre, can provide all of the above services to franchisors and their eventual master franchisees, even providing the boots-on-the-ground support that a franchisor finds difficult from thousands of miles away.