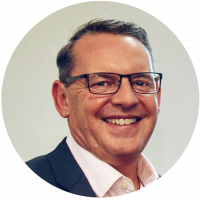 Steve Felmingham
QFP, Franchise Consultant
"I develop and grow your business through franchising"
Steve has been involved in franchising for over 25 years, and has been a Franchisee, a Franchisor, an International Master Franchisee and an International Franchise Consultant, developing, launching and managing dozens of UK and international Master Franchises in Europe, USA, Canada, South America and Australia. During that time Steve was also a main board director of a highly successful international publishing and distribution franchise with over 28,000 outlets worldwide.
Prior to discovering franchising Steve developed and built three of his own independent businesses, and is the first to agree that "franchising is a much easier way to start – or develop – a successful business model."
Steve originally joined The Franchising Centre in 2006 and has worked with dozens of new-start franchises and established brands. As a result of Steve's 'all-inclusive' franchise support style, he has been regularly called upon to work in an interim management capacity for some leading franchise brands. Steve worked in an interim franchise management role with the UK's fastest-growing children's day nursery franchise, taking this network from zero to over 90 franchisees in four years and more recently brought a US-based education franchise into the UK, a role which included adapting the model for UK sensitivities, creating and managing the full launch programme, building a support team and recruiting an astonishing 41 franchisees in the two years from launch.
One of the first franchise advisors in the UK to be awarded the QFP (Qualified Franchise Professional) status in August 2011, Steve is regularly invited to speak at seminars around the UK and overseas; writes articles and commentary for the franchising press and is a regular speaker at the British Franchise Association's Franchise Exhibitions.
As a Franchise Consultant with The Franchising Centre, Steve advises businesses looking to expand through franchising, and identifies their most cost-effective routes to market. As Steve is quick to point out "Franchising is not for everyone – we spend as much time with potential clients discussing whether there are better methods to expand their business than we do discussing franchising, but for the right business, at the right stage of its development, there is no better model".
Working with everyone from small, new-start companies to multi-billion dollar international organisations, Steve and the team all have hands-on practical skills as previous franchisors. This applied experience allied to The Franchising Centre's unique support systems allows them to handle the development and launch of a completely new franchise model, or to utilise their hard-won experience in franchisee management to understand the challenges faced by mature franchise networks to assist them in maintaining a smooth-running operation.
Whilst business in today's world can be stressful, Steve finds that seeing so many businesses flourish and grow is the most rewarding aspect of his role, and there can be no better recommendation than the word of a satisfied customer. For the final word, let's hear from Tony Prueitt, Sales Director of Mac Tools (a Division of Stanley Black and Decker)
"At Stanley we pride ourselves on having a professional and ethical approach in all that we do. To ensure we delivered this approach when re-launching our Mac Tools Franchise business we needed help from Franchise experts. After our thorough research of the Franchise development market, we decided to retain the services of Steve Felmingham from The Franchising Centre. Steve clearly stood out from the crowd when advising the steps we needed to take to develop a good business into a great Franchise.
Throughout the re-development process Steve was a key driver within our team, always on hand bringing the sort of help and guidance you don't find in text books – especially the change management advice when dealing with internal and external stakeholders. The results to date are fantastic as we have successfully re-launched the Mac Tools Franchise model and we are recruiting new franchisees of a higher quality and at a faster rate than previously seen in Mac's 19 year UK trading history. Without hesitation we would highly recommend the expert services of Steve and The Franchising Centre team to any business for whatever Franchise development requirements they are seeking – definitely value for money."