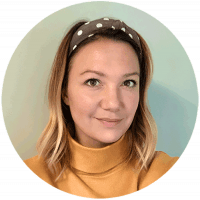 Katie Snelling
Head of Creative
"I design and build the marketing collateral for every aspect of a franchisor's franchisee recruitment process."
Katie is a graphic and web designer who has a passion for branding. In 2018, she was charged with refreshing the TFC brand; bringing a fresh and modern perspective, and ultimately breathing new life into the highly reputable business. Katie was also responsible for designing and building the new The Franchising Centre website.
Katie's work within the company also includes supporting TFC's many franchise clients; designing and building franchise recruitment websites and email marketing campaigns, as well as putting together other marketing collateral, such as franchise prospectus' and Franchise Information Memorandum documents; brand guideline packs, and other print marketing materials.
Katie lives by the sea in North Norfolk with her husband and two young children, and loves making the most of the beautiful coastline, whether walking the dog on the beach or paddleboarding or sailing to secret sandy islands with the family.