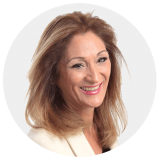 Farrah Rose
QFP, Head of International Development
"I develop and grow your business globally through franchising"
Originally from Iran, with a French Baccalaureate in Science and business and marketing degrees from Hull University, with British Citizenship and fluency in two European and one Middle Eastern languages, Farrah Rose has been involved in international franchise management since 1984 and has worked with over 300 brands internationally. As European Franchise Manager for Burger King she was responsible for appointing, developing and supporting franchisees throughout Europe. In 1990 she moved to Arcadia Group, the 2nd largest British Retailer – as Senior International Development Controller where she prepared master franchise and licence offer packages for a number of its fashion brands including Dorothy Perkins, Principles, Evans, Top Shop, Top Man, Racing Green and Debenhams, and appointed franchise partners in Europe, The Middle East and Japan.
Since leaving The Burton Group in 1997, where her last role was 'International Home Shopping Development Director', she joined The Franchising Centre, as one of the firm's early founder members, operating as a senior international franchise development consultant and shortly after was appointed to the Board as the International Development Director. In this role, Farrah has developed international franchise strategies, pre-drafted legal agreements and operations manuals, identified franchise partner profiles and prepared training programmes and support packages for a number of well-known service, manufacturing and retail brands such as: Intercoil, Soccer Scene, Nestle, Unilever, The Rug Company, Creams Café, Butlers Chocolate, Max Brenner café, VQ Juice China, Café Jubilee, MFI, Debenhams and House of Fraser Department stores and many more. She has also worked with business-to-business and service franchises such as Rubicon, Water Babies, The Education Group, Speedflex, Castille Recruitment Consultancy, The Higher Education Academy, Energy Fitness, Kids Sports, kinght Franks, Sanondaf / Sanoserv, Motorhome Depot, Hoogoven Aluminium Building Systems and Chartered Institute of Environmental Health and many more.
Farrah has also lived in several countries such as France, Spain, Sweden and imported franchise businesses from one market to another bypassing the UK, , worked with Royal families of several Middle Eastern Countries to promote franchising in the Middle East. She has a tremendous in-depth knowledge of adapting systems to suit local franchise markets.
Farrah is a key international franchise figure, managing relationships with over 40 international franchise marketing broker Associates in all key markets, to support her client base with their international franchise development plans. For two decades, Farrah has enjoyed the elite status of full membership of British Franchise Association Affiliates and recently been given the Qualified Franchise Practitioner certificate in recognition of her 32 years contribution to ethical international franchise practices, and continues to be invited to contribute to and speak at a number of seminars and Conventions on International Franchising in the UK and Europe and the US.
She has advised politicians and civil servants on the use of international franchising to encourage private business development sectors in Middle East, Guernsey and Malta. Is the Franchise Expert in a highly professional network of commercial experts at Harvard Illuminas Limited, Fast-Tracking Venture Management, – Accelerated Business Development and Strategy & Commercial Support. She regularly co-authors series of articles on the subject for Franchise World, the UK's leading franchise news magazine She runs International Franchise Seminars in conjunction with high profile international legal Firms such as Field Fisher Waterhouse, Bird and Bird, Steven Bolton and Hamilton Pratt and presents to UK Trade and investment – a Government body.
Finally, against fierce competition, Farrah was chosen as the advisor to the Minister of Employment and Commerce in Guernsey advising local professional service providers on promotion of the island to international companies looking to establish their international Head Quarters on the Island. She ran frequent seminars for local tax and legal and financial advisors as well as local politicians.
Farrah was also selected to be the Franchise and License Advisor to the Commonwealth Secretariat assisting the Commonwealth to promote and set up the correct structure for development of franchising in Malta.